Dock has just released a Credential Template Builder in Dock Certs that enables users to create custom credential templates to accommodate their specific needs and a variety of use cases.
Before this feature was added, if users wanted to issue credentials using other than our pre-built templates such as University Degree and Proof of Employment, they would have to use the API to create a custom template (schema) and define the custom attributes they wanted a credential to have, which requires more technical knowledge. The Credential Template Builder is a no-code feature that allows anyone to choose which details they would like to add on their credential such as license number, area of concentration on a university degree, and membership type.
Nick Lambert, CEO of Dock said, "The Custom Credential Builder was added in response to the growing demand from our customers for a customizable and easy-to-use solution that accommodates a diverse range of use cases. Our team has worked tirelessly to create a solution that doesn't require technical expertise, enabling organizations of all sizes to build and issue custom credentials efficiently, cost-effectively, and for those credentials to be interpreted by any entity verifying them."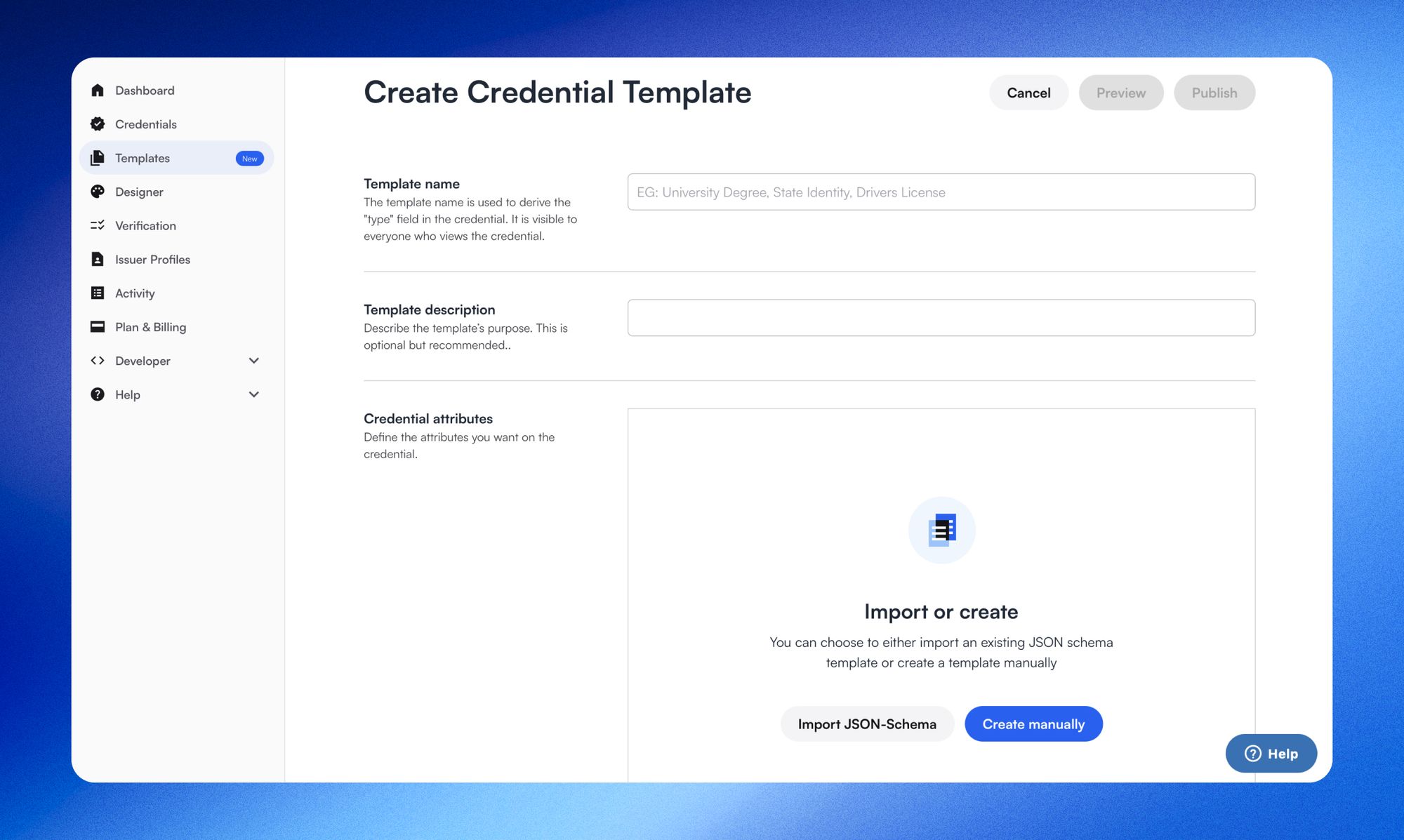 This feature can be used to define custom attributes on documents that can be issued as Verifiable Credentials for a variety of use cases, including:
Identity documents
Professional licenses
Membership associations
Training certificates
Employment records
Benefits of the Credential Template Builder for Issuing and Verifying Organizations
Efficient: With a no-code credential builder, issuing organizations can create custom credentials without needing to know how to code. This makes it much easier for organizations to efficiently create and issue credentials.
Cost-effective: Using a no-code verifiable credential builder can be much more cost-effective than hiring developers to build a custom solution.
Reliable data from custom credentials: Verifying organizations such as employers or financial institutions can be assured that the data on the custom credentials is reliable, unaltered, and valid
Complete Guide on the Credential Template Builder
Click here to see the step-by-step guide on how to use this feature.
About Dock
Dock is a Verifiable Credentials company that provides Dock Certs, a user-friendly, no-code platform, and developer solutions that enable organizations to issue, manage and verify fraud-proof credentials efficiently and securely. Dock enables organizations and individuals to create and share verified data.
Dock's Solutions
Certs API: Easy integration with your system to make your data fraud-proof and instantly verifiable.
Dock Certs: Web app to issue and manage digital identity and Verifiable Credentials
Dock Wallet: Easily store and manage their digital credentials and identity (individuals) and verify credentials instantly (organizations)
Customer Use Cases