Dock has just released the highly awaited Verification Feature on the Dock Certs platform and Dock Wallet, which enables organizations to instantly verify their users' digital credentials.
Benefits of Dock's Credential Verification Features
Organizations can confirm the authenticity of someone's credentials or documents within seconds instead of taking days, weeks, and months like  traditional verification processes.
People can choose which parts of their credential to send to a verifier rather than showing all of the details of a credential, which enables more privacy and security by not providing more information than necessary.
Verifying credentials securely and instantly helps organizations:
Prevent document fraud
Save money on manual and expensive verifications
Enhance efficiency in operations
Comply with data regulations
Nick Lambert, Dock's CEO, said, "How can people trust each other and organizations in the digital world? Through verifiable, fraud-proof data. When someone presents you with a digital document or credential, it's more important than ever that you can quickly verify if that information is valid and authentic. We are thrilled to see more and more companies use Dock to eliminate fraud and save time and money by speeding up their verification processes."
Cutting Edge Ability to Verify Credentials Instantly and Securely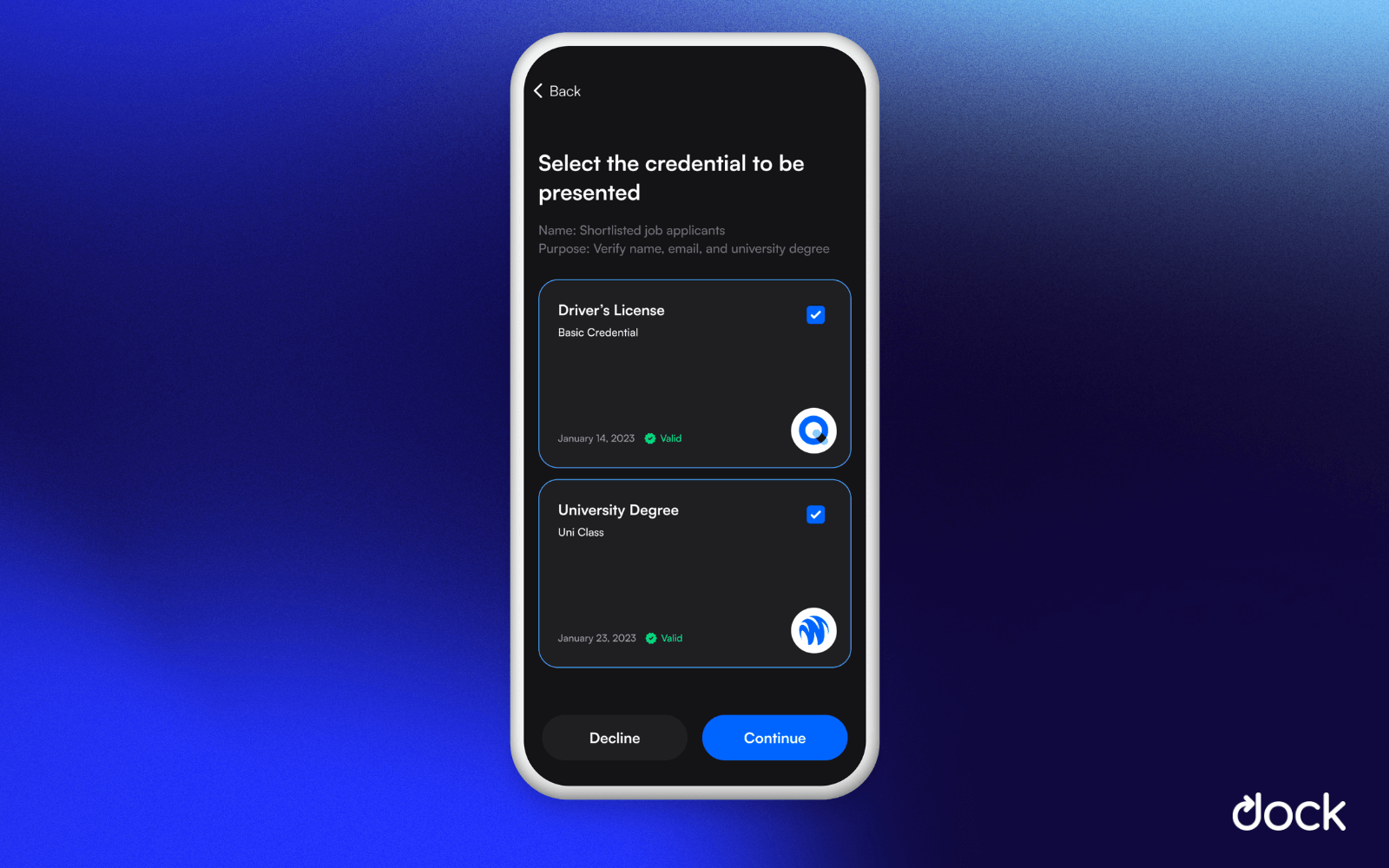 It's never been easier for people to fake physical and digital documents and credentials to commit fraud. Many people around the world are using fake certificates to get high-stakes jobs like engineers, doctors, and nurses which puts many people at risk of injury, losing their assets, or death. It's becoming harder to know what information is true and what isn't.
Here are just a few of many consequences that unfortunately happened as a result of credential fraud:
But fraud can be prevented by issuing documents as Verifiable Credentials that can be verified instantly by organizations with Dock's tools, which enhances trust and transparency. The future of verification is here and it's powered by blockchain technology. Because this approach is quick, efficient, and fraud-proof, people can be confident in the accuracy and authenticity of the information being presented to them.
With Dock's blockchain-based credential verification, organizations and individuals can say goodbye to the hassle and uncertainty of traditional verification methods. These older processes often involve manual, outdated, and tedious work of calling issuing organizations like universities, licensing organizations, and waiting a long time to get relevant documents verified. These delays and inefficient processes have resulted in consequences including hospitals not being able to fill enough nursing positions during urgent times and companies losing out on great job candidates.
Conveniently Verify Credentials With a QR Code By Phone or Computer
By creating a Verification QR Code in Dock Certs, you can request and instantly verify any document from your users. Users who scan the Verification QR Code with their Dock Wallet receive a notification of what data you are requesting. Once the user accepts, Dock instantly verifies the authenticity of the data and presents you with the verification result.
Wallet-to-Wallet Verification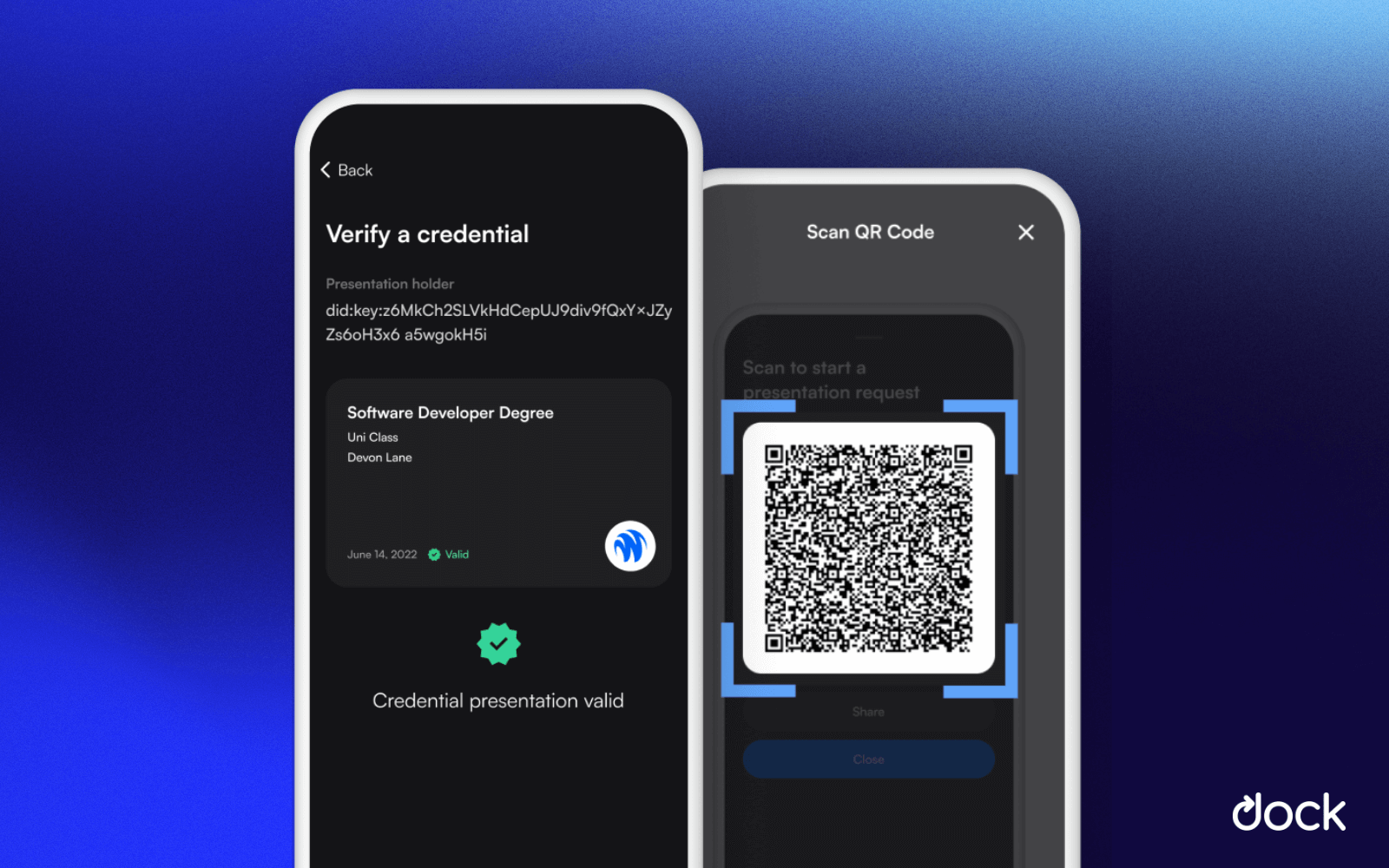 Verifiers can import the Verification QR Codes to the Dock Wallet to enable Wallet-to-Wallet Verification. This way, they can easily start the verification process on their phone by showing the QR code for a holder to scan or sharing it via email or messaging channels.
Verify on the web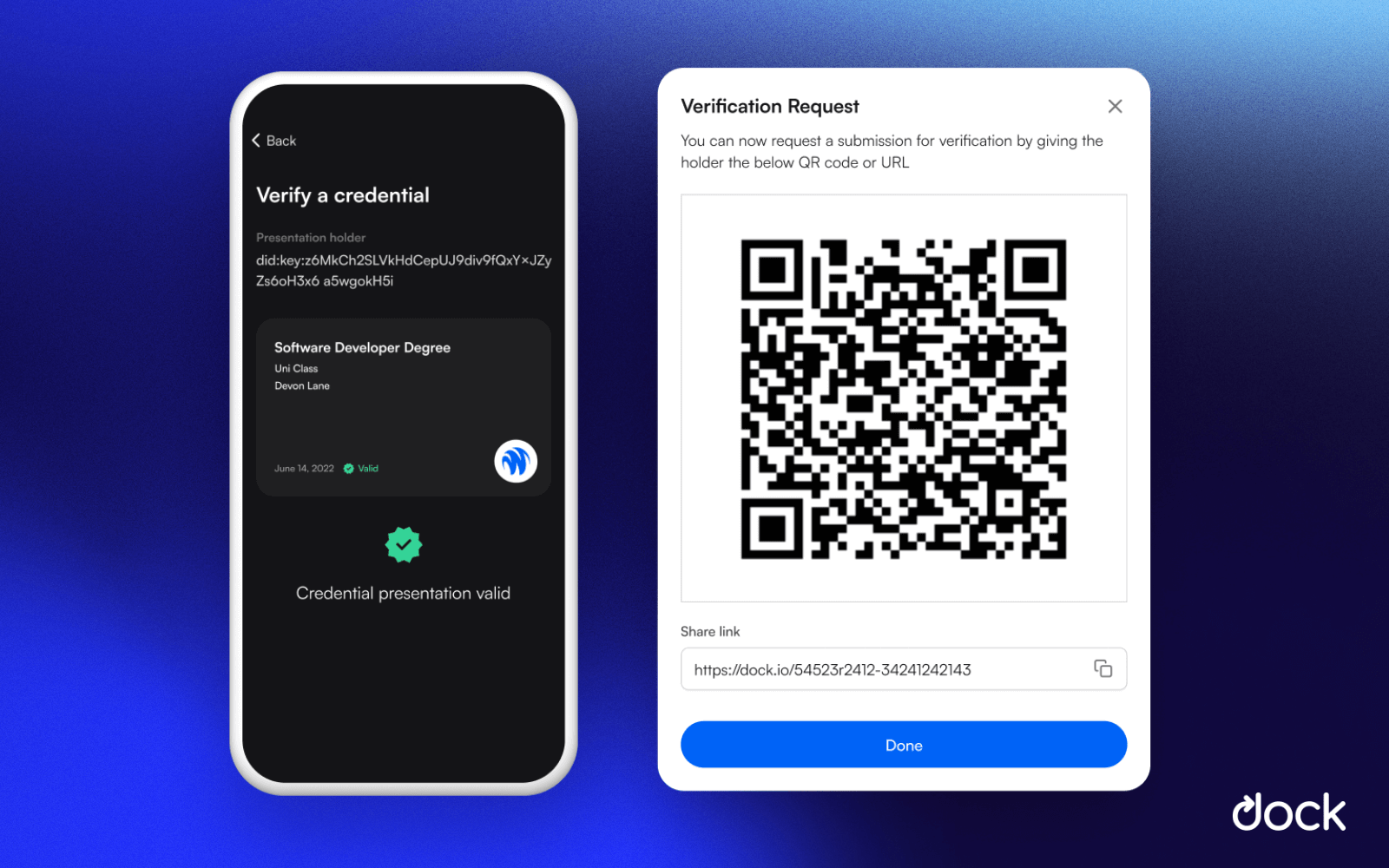 A Verifier can display the Verification QR Code on the web using a URL that holders can scan with their Dock Wallets.
Click here to see our complete step by step guide on how to verify credentials with Dock Certs and Dock Wallet.
Privacy Enhancing Feature: Enabling People to Share Only the Data They Want With Selective Disclosure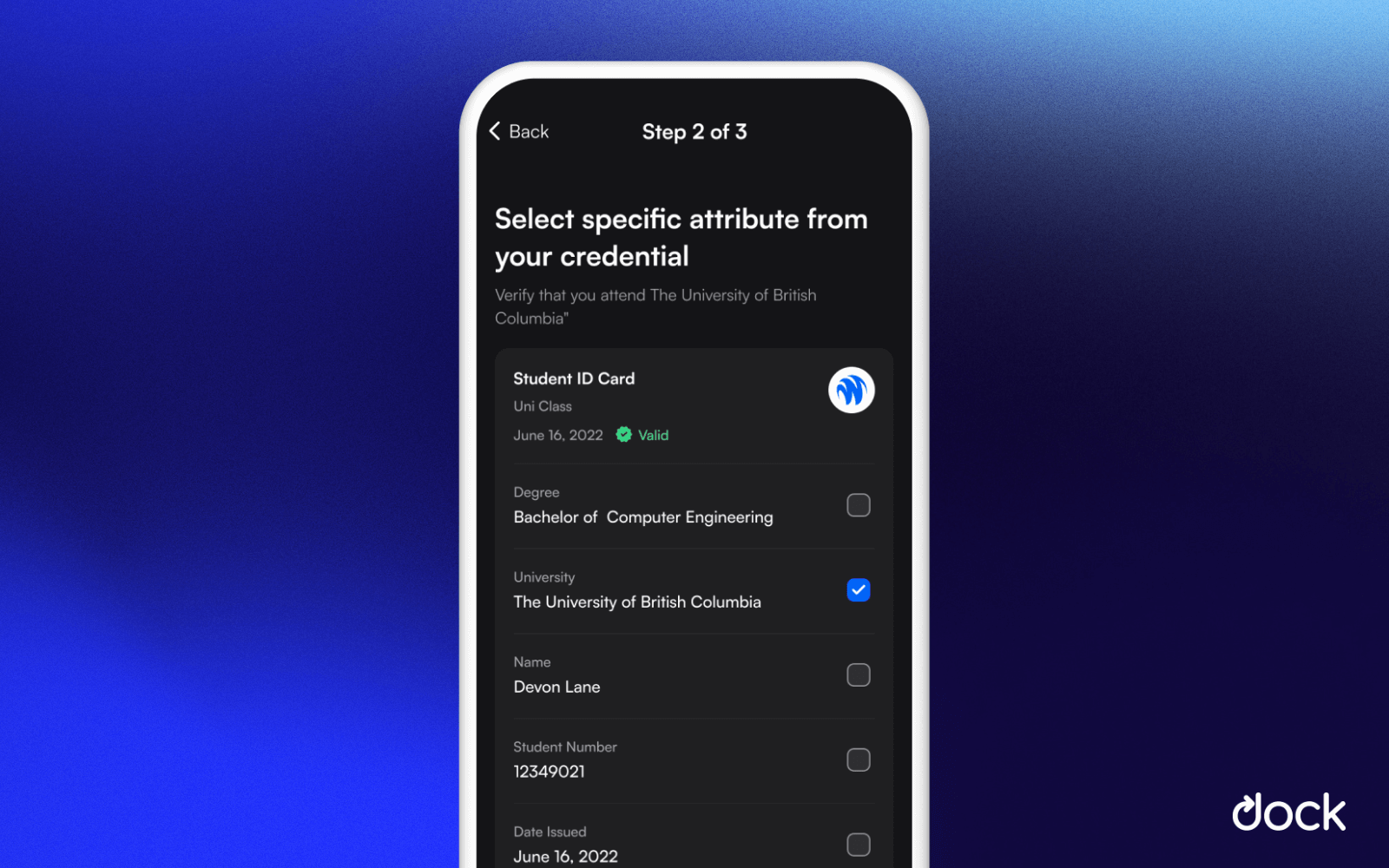 With this new release, people will be able to share only the information they choose to, and nothing more with a tool called Selective Disclosure. This approach to data sharing provides a level of control and security that's not possible with traditional verification methods. An example of Selective Disclosure is when someone sends an employer their license number on their credential but not their full name, address, and date of birth.
Elina Cadouri, Dock's Co-Founder and Chief Operating Officer, "At Dock, we built our company around the principles of privacy and security. Selective Disclosure is key to enabling these features. We are proud to offer a solution that empowers users to protect their data and ensures that privacy is at the forefront of everything we do."
By only sharing the information that is necessary for a specific purpose, people can minimize the amount of personal data they share, reduce the risk of their information being misused, and have control over who has access to it.
Selecting specific attributes to share from a credential is only possible if the credentials were issued using the Dock BBS+ option in Dock Certs. This innovative cryptographic signature enables privacy enhancing features such as Selective Disclosure and, coming soon, Zero-Knowledge Proofs. Zero-Knowledge Proofs is a way for someone to prove a claim without actually revealing what that information is, such as proving to someone that you are over 18 years old, without telling them your exact date of birth.
Benefits of Dock's Verification Tools for Organizations
Verifying credentials instantly with Dock's tools helps organizations:
Reduce the risk of liabilities, fines, and lawsuits by enhancing the credential verification processes
Speeds up the hiring process, which is especially important in sectors like healthcare to fill in staffing shortages efficiently
Saves money and time by reducing the number of resources needed to verify if documents and documents are trustworthy
Helps organizations stay compliant with data regulations
Injuries and death can be prevented by ensuring your hire people with the right qualification process
Get started with Dock Certs and the Dock Wallet (free). Contact support@dock.io if you have any questions.
Customer Use Cases
Learn More
About Dock
Dock is a Verifiable Credentials company that provides Dock Certs, a user-friendly, no-code platform, and developer solutions that enable organizations to issue, manage and verify fraud-proof credentials efficiently, and securely. Dock enables organizations and individuals to create and share verified data.