The Dock wallet & credential issuing platform are now Verifiable - A place for organizations to issue digital credentials and a digital wallet for individuals to store & share them.
Your Dock account has automatically moved, just login to Verifiable.com with your existing credentials to get started.
---
Credential Issuing Platform Released
We're thrilled to share we have released Dock's credential issuing platform. This is a multi-month effort in the making and will provide a foundation to build on moving forward.
Organizations can now issue blockchain-anchored credentials to members, students and employees, empowering them with lifelong digital assets. The following bulletpoints highlight the current features of the platform.
Issue credentials to recipients - batch or individually  
Preview the credential
Send Draft to yourself
Issue credentials
Manage recipients
Resend the credential
Revoke the credential
Print or Download
Share the credential
Track Usage Analytics
How many times credentials are shared and medium used
Site visits resulting from issued credential
Number of times issued credentials have been verified
How many times issued credentials have been downloaded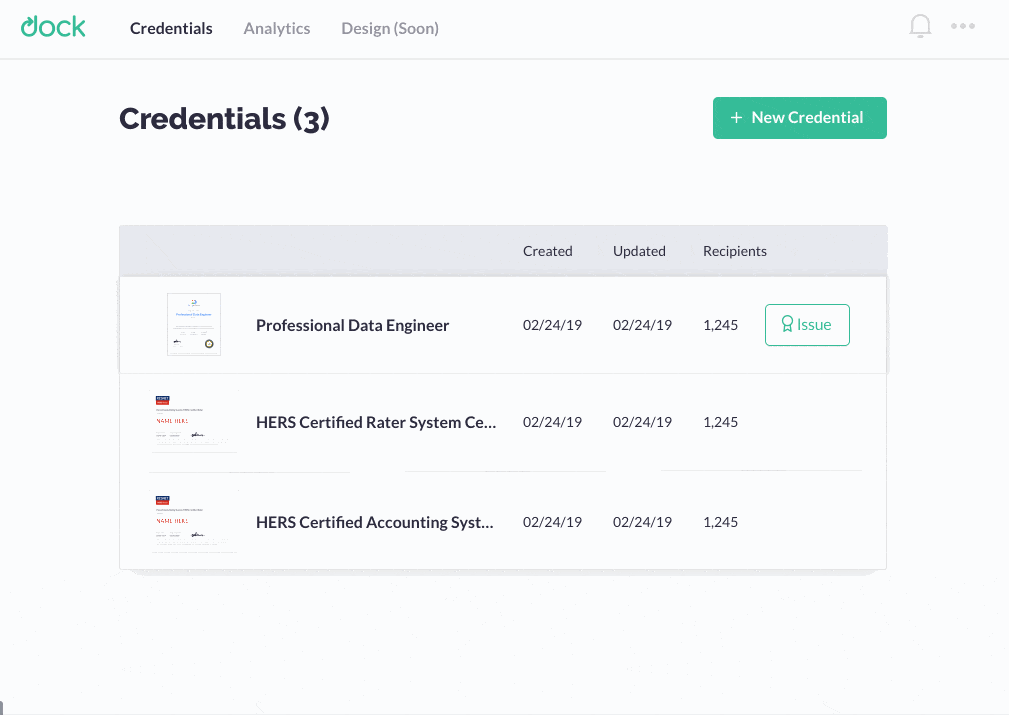 Wallet updates: New sharing module
Providing an excellent recipient experience for users to collect, manage and share their digital credentials continues to be our goal for the Wallet. Over the last few weeks we've made significant improvements to a key component of this experience- the sharing of credentials.
Inside the wallet you can now click the share button to open the brand new sharing module. This module provides a custom URL link so others can quickly view your credentials along with buttons for sharing directly via LinkedIn, Facebook or Twitter.
While we feel this upgrade to credential sharing is a step in the right direction, we plan to continually improve the wallet until it provides the best recipient experience available.
Coming Soon
Next up on our to-do list is rolling out a Blockcerts compatible import function allowing digital certificates issued outside of Dock's platform to be stored, managed and shared through the Wallet.

Also, since everyone lives on their phones nowadays we're working on something to make it even easier to access and control your digital credentials...Dock on your mobile device!
Credential issuing platform updates
Proposal 15: Formats for more frequent Project Updates
New advisor, Industry expert Troy Markowitz
New design and updated brand
Retention metrics for the Dock Wallet
With the release of the Credential Issuing Platform everyone on the Dock team is excited to be entering the next phase of our journey- actively empowering organizations through digital credentials and providing credential holders with an amazing experience for controlling their professional accomplishments.

To follow our progress check our blog for the twice-monthly updates & follow us on social media.
---
Learn More About Dock: