Dock's had a busy past few weeks, as evidenced by our recent updates and new features. And today we're thrilled to announce a new partnership for Dock users to explore: SpringRole.
What is SpringRole?
SpringRole allows you to create a verified professional profile that showcases your skills and work history for prospective employers and more. They do this via skills, professional profiles, and customizability.
First, SpringRole lets you create a professional profile that's verified by previous employers and coworkers. Every item on your resume/CV can be verified by your current or previous employer, then written to the blockchain to create an immutable record of your work history.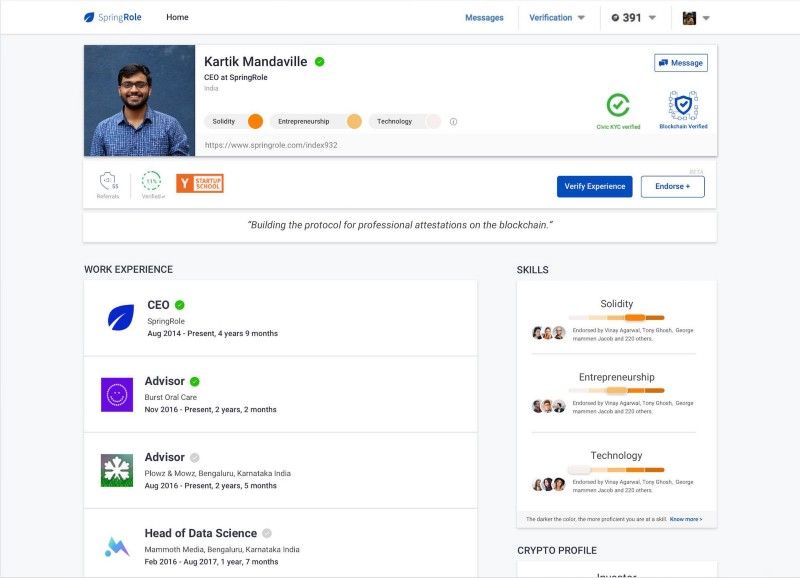 Additionally, many of you are familiar with LinkedIn's Skills & Endorsements section, where any connection you have can click a button and upvote you for a certain skill set. That means your mom's vote counts just as much as your former employer's (or someone who's been in your field of expertise for 20+ years). SpringRole's AI-backed skills are weighted based on the person voting, so they more accurately reflect your skill level.
Lastly, SpringRole's profiles are customizable — meaning you only share the info you want, and with less noise than the ad-ridden interfaces of current professional networks.
Why SpringRole + Dock?
SpringRole's blockchain-enabled, verified profiles fall right in line with Dock's vision of creating a more connected professional world. Their verified data will help Dock users augment their professional profiles with better information.
They already have more than 30,000 profiles (and are growing rapidly). By partnering with SpringRole, Dock will further enable information sharing within the professional industry and improve Dock users' profiles with verified information.
How will the partnership work?
Here are a few ways SpringRole and Dock will integrate their services:
Authentication: Dock will serve as a login option when signing in or creating a new SpringRole account.
Import relevant data: Dock users can instantly import work history and experience to SpringRole (where it can then be verified).
Update new information or work experiences*: SpringRole users will be able to transfer their professional data to their Dock account with the click of a button, allowing you to use SpringRole-signed verified information in other apps in the Dock ecosystem.
*As of now, this integration features a one-way sync between Dock and SpringRole. The ability to transfer data from SpringRole to Dock will be released in an update soon.
---
The Dock-SpringRole integration is now live! Visit the Dock App Marketplace to create a SpringRole profile with just a few clicks.
---
Learn More about SpringRole: