The Dock wallet & credential issuing platform are now Verifiable - A place for organizations to issue digital credentials and a digital wallet for individuals to store & share them.
Your Dock account has automatically moved, just login to Verifiable.com with your existing credentials to get started.
---
During April, our team made strong headway on our next major launch which is our digital credential issuing platform. This platform will enable organizations of all types - associations, universities, e-learning platforms, and many more - to issue digital credentials that will be anchored on blockchain and universally verifiable.
Organizations will be able to manage their recipients, create certificate templates and issue official, vendor-independent records that are fully Blockcerts and Open Badges compatible. The blockchain-anchored format allows recipients to have full ownership over their credential and verifiers to use any compliant online validator to instantly verify their integrity. The credentials are also fully portable, and recipients will be able to upload them to Dock's newly upgraded Wallet or anywhere else they choose.
Blockchain Anchoring
The process of anchoring a credential to the blockchain is a powerful component to our digital credential issuing platform. At the time of issuance, each credential is hashed and reduced to a tiny bit of encrypted data. Next, the encrypted data is immutably recorded to the blockchain for future reference.
When the time comes to verify the credential, an online validator simply hashes the shared credential and compares it to the blockchain record- ensuring that the credential is identical to the one originally issued.
Credentialing Standards
In order to allow for trustless machine-to-machine (m2m) business process execution, standards are imperative to allow low/no friction exchanges among the core stakeholders: Credential Issuers, Credential Recipients, and Credential Verifiers.
Although the basis for today's interoperable credentialing originates in the Mozilla-led Open Badges efforts, several direct and indirect standards efforts have evolved and shaped today's ecosystem. Below, we briefly touch on the most important standards:
IMS Global Open Badges 2.0 (OBv2)
The OBv2 Specification outlines the issuance of a digital credential containing rich metadata about the recipient, the issuer, the criteria for achievement, and much more. Perhaps more importantly, this standard outlines verification procedures for ensuring that a badge meets the requirements of the Open Badges Specification.
BlockCerts, the Open Standard for Blockchain Certificates
The BlockCerts standard extends Open Badges to allow for the compliant issuance of cryptographically signed, tamper-proof, and easily shareable digital credentials to blockchain.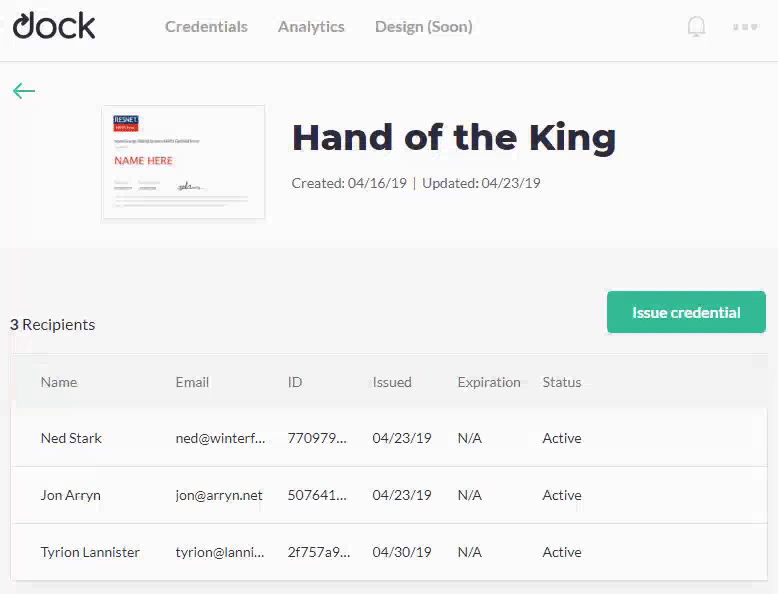 Wallet
The Wallet plays an integral role in Dock's mission of providing an A-Z solution for digital credentials. We've recently made some upgrades to the Wallet and will continue to improve it over the coming months. Our most recent work includes:
Making the Wallet compatible for importing credentials that are compliant with the BlockCerts standard.
Improving the ability for Wallet users to share digital credentials to their networks with:
Publicly hosted links that direct to your Wallet Credentials
Embed code for your own website
Sharing to major social networks and integration in profiles
Next Steps
Issuing tamper-proof credentials is the first of many steps in our journey to empower organizations to seamlessly issue digital credentials ensuring both portability and trustless verifiable integrity. Some of our most important upcoming efforts include:
Implementation of baking for maximum portability – credential image files with Assertions encoded within
Complying and extending standards via contributions to the community
Continued reduction of the transaction cost for blockchain anchoring
Expanding Wallet functionality for the import of open standards compliant digital credentials not issued by Dock
Enabling decentralized credential revocation
Food For Thought
While we ourselves stand behind the development of Ethereum, we can't expect that all organizations issuing credentials on Dock will share in that ideal. We are starting with Ethereum but are striving toward blockchain agnosticity and are actively exploring Polkadot and Cosmos.
---
Learn More