There are many ways to control the cryptocurrency you own, and to the uninitiated this ability may feel out of reach. Fortunately, the team at Binance is directly addressing this issue through the Trust Wallet- blending security and ease of use together nicely for management of a wide range of cryptocurrency, including the Dock token.
Trust Wallet features
The Trust Wallet is a mobile wallet, which means that it lives on your smart phone. Compatible with IOS or Android operating systems, almost any phone out there can use it. The code backing it is open source and has been audited to meet bank-level security standards and a separate PIN code to open the app ensures no one but you can access your wallet.
If you interact with dapps on a regular basis, the Trust Wallet comes with a Web3 browser that allows you to use them easily. Some examples would be PeepEth, CryptoKitties & uPort.
Additionally, the Trust Wallet has placed a premium on user anonymity by providing server-free infrastructure so your actions aren't being logged without your knowledge. The wallet also provides a nice interface for viewing your entire portfolio in one easy place.
The Trust Wallet supports the following cryptocurrencies and tokens: Dock token (DOCK), Ethereum (ETH) including all ERC20 tokens, Bitcoin (BTC), Bitcoin Cash (BCH), Litecoin (LTC), Ethereum Classic (ETC), POA Network (POA), Callisto (CLO), GoChain (GO), Vechain (VET and VTHO) including staking, Wanchain (WAN), Tron (TRX) including TRX10 tokens, ICON (ICX), TomoChain (TOMO), Binance (BNB), All ERC20 & ERC223 tokens- You can see the list of supported tokens on etherscan.io
How to Install it & Create your Wallet
The longer you spend in the crypto space the more likely it becomes you'll be given the advice, "Never leave your cryptocurrency on an exchange!".
The reasoning behind this is because the private keys (that Trust Wallet encrypts and stores on your phone) allowing access to your crypto are not under your control when stored on an exchange.
Exchanges get hacked or shut down for various reasons, so if you're serious about securing your cryptocurrency the best place to do so is in a wallet where you control the keys.
While many people are hesitant to move from storing on an exchange to a personal wallet, Trust Wallet has made the process simple and easy. All you need to do is follow these 5 steps:
Head over to the IOS or Google play store and search: Trust Wallet. Six Days, Inc is the publisher.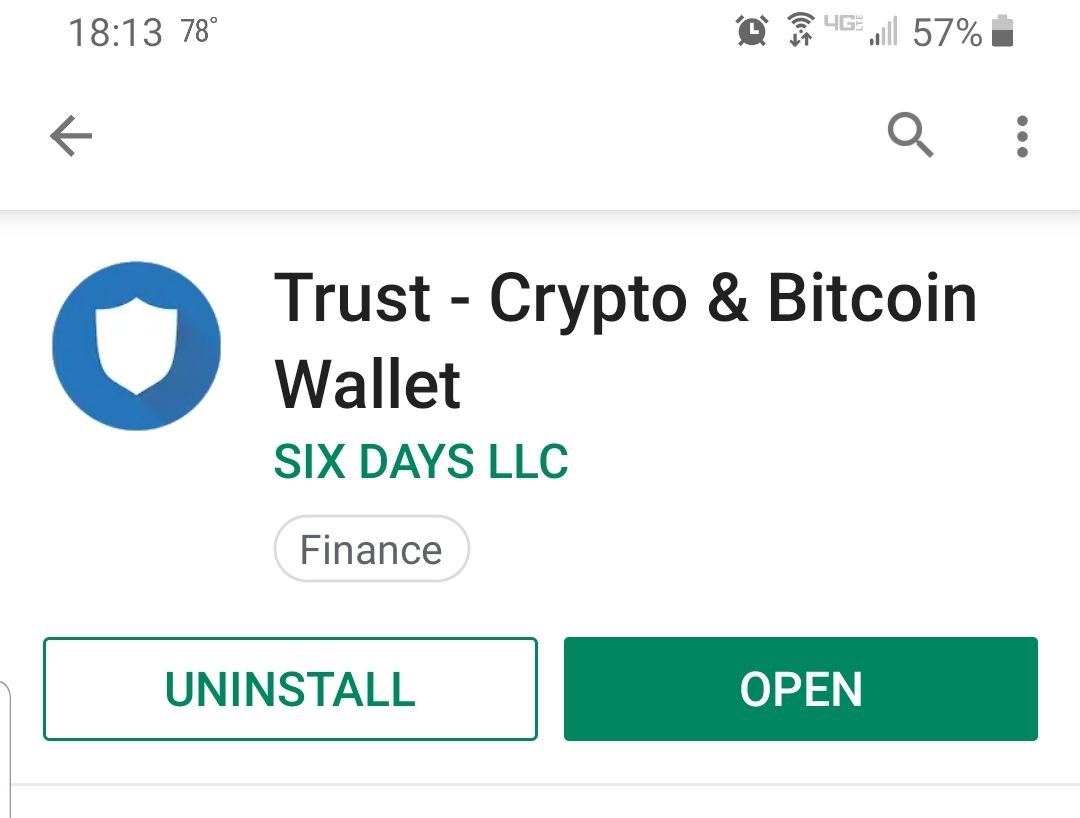 2.  Install the app and open that app up!
3.  Click on "Create New Wallet" or import one if you want (additional technical skill required). You can also just watch an address without interacting (sending) with it.
4.  Write down your 12 word recovery phrase in the correct order. If something happens to your phone you'll never be able to access what's in your wallet without it...
5.  That's it! You can now store Bitcoin, Ethereum (Dock and any ERC-20, 223, and other tokens), Binance coin & many other cryptos on there.
Moving the Dock token (and other ERC-20's) to Trust Wallet
If you are a holder of Dock it is our teams recommendation that you secure it in the Trust Wallet. Not only are you protected by bank-level security, but you'll have access to your Dock anywhere your phone has service. As an added bonus the interface is also simple and easy to use.
By month's end we'll be announcing major changes improving the utility use case and tokenomics of Dock's token- moving your Dock to the Trust Wallet today ensures you'll be able to take full advantage of these updates!
With that in mind, here's how to do it:
1.  Open up the app again, make sure you're on the Wallet tab. Click the + in the upper right.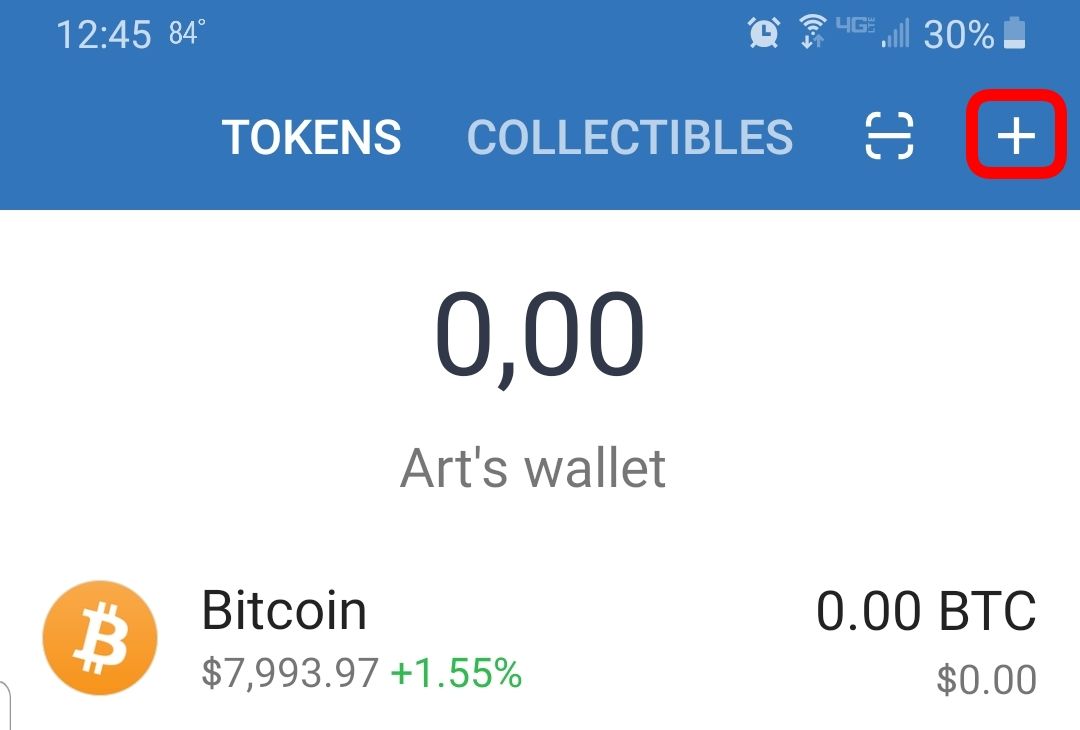 2.  Type in Dock and then add it to your main wallet page.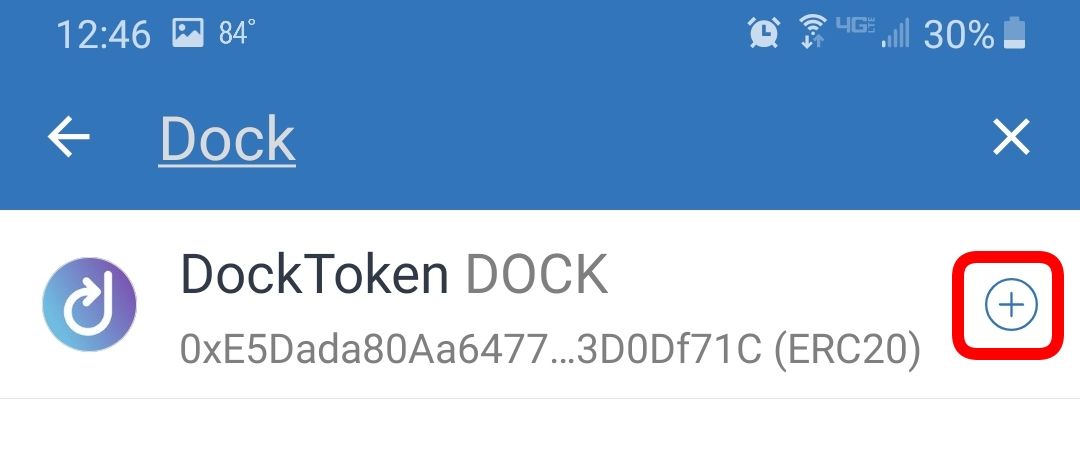 3.  Go back to the main Wallet page and click on Dock to open up the send/receive page.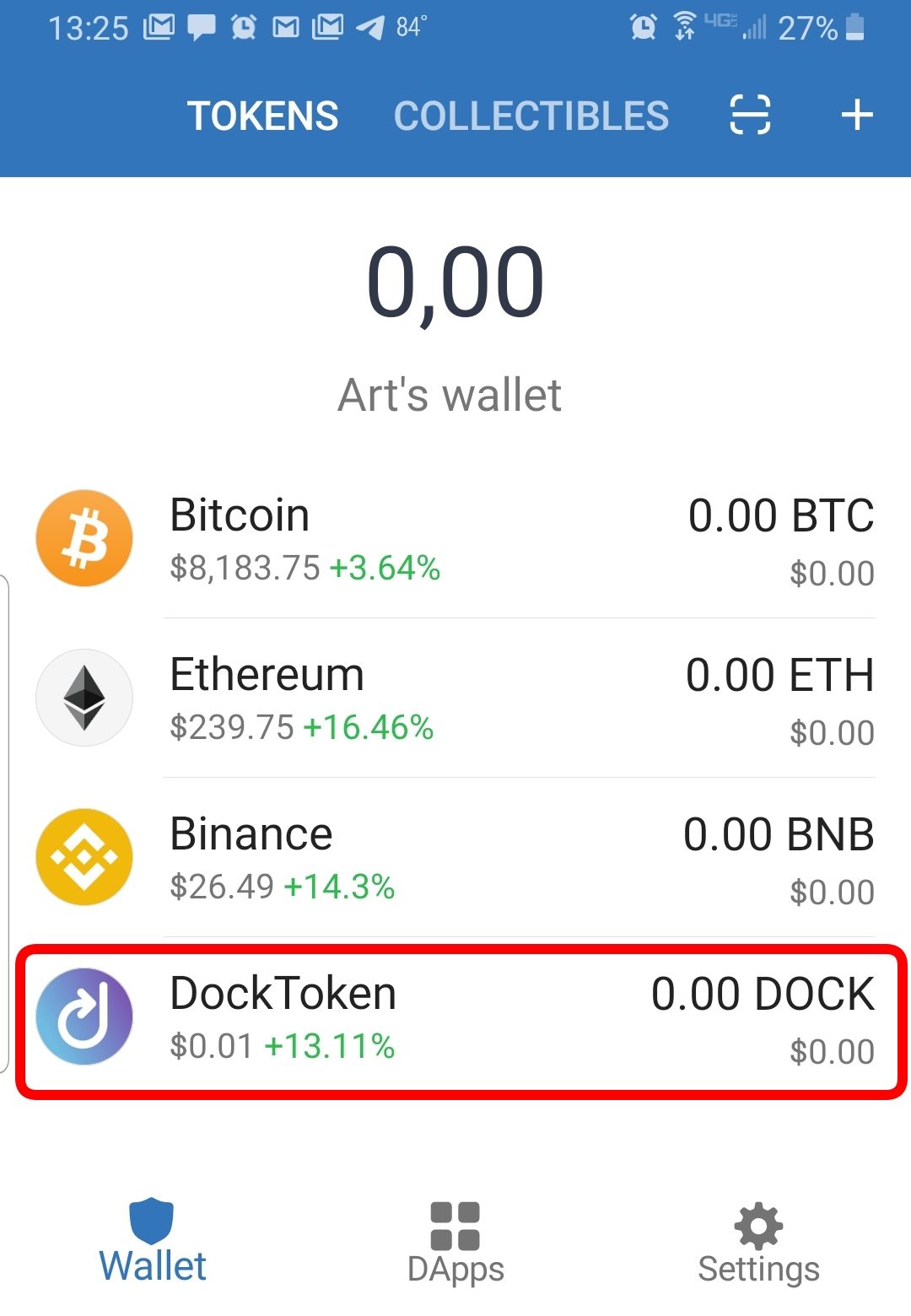 4.  Copy the receiving address, aka your public address. If you're sending Dock to Trust Wallet from a different device, email yourself this address. After you've copied it open up the exchange or wallet where your Dock is being held.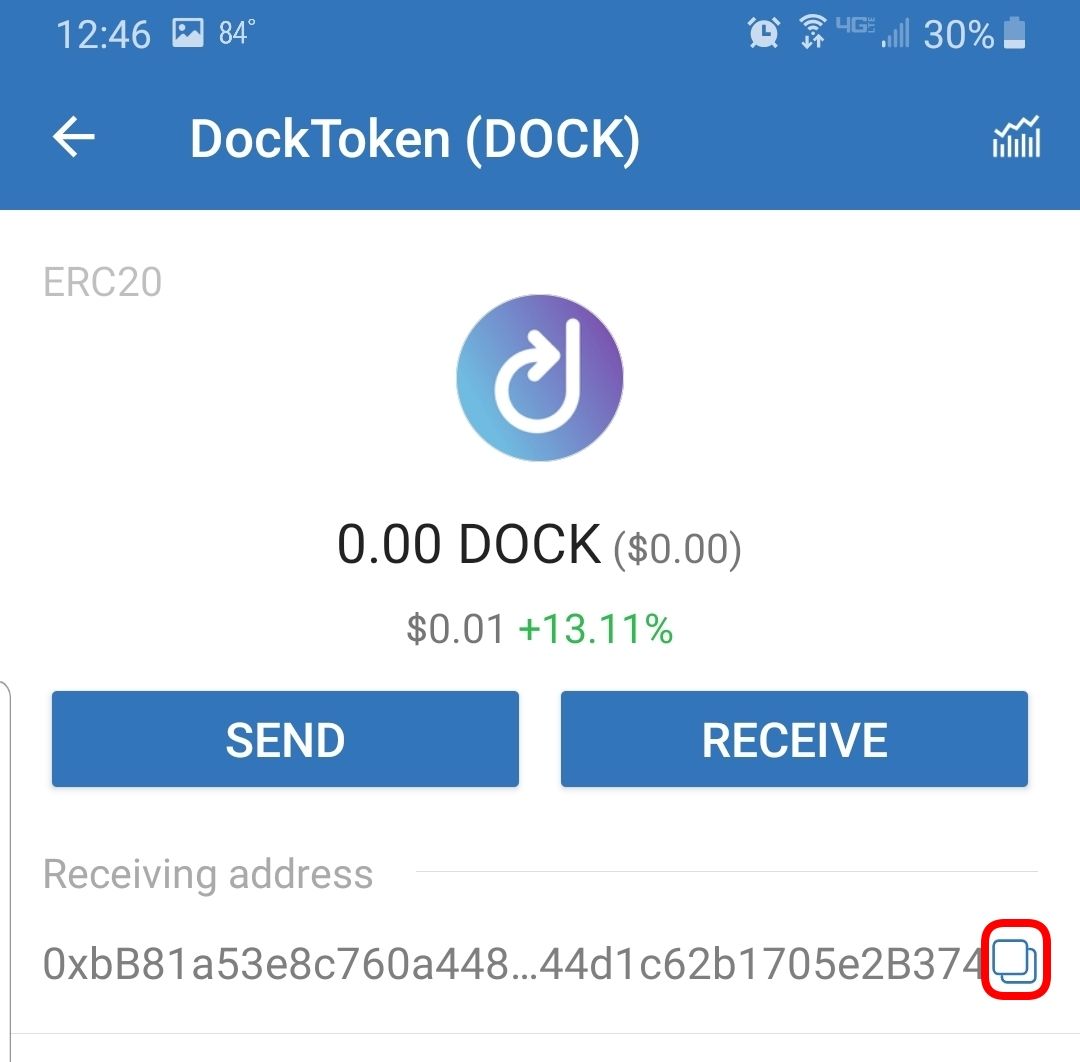 5.  Open up the wallet or exchange where your Dock is currently held and paste your Trust Wallet receiving address- then hit Withdrawal or Send! There is a small fee for this action, (always paid in Ethereum) and most wallets or exchanges calculate what you'll need automatically. If you're sending from another wallet and it doesn't have any Ethereum in it, you'll need to send some ETH to that wallets address before you're able to transfer your Dock.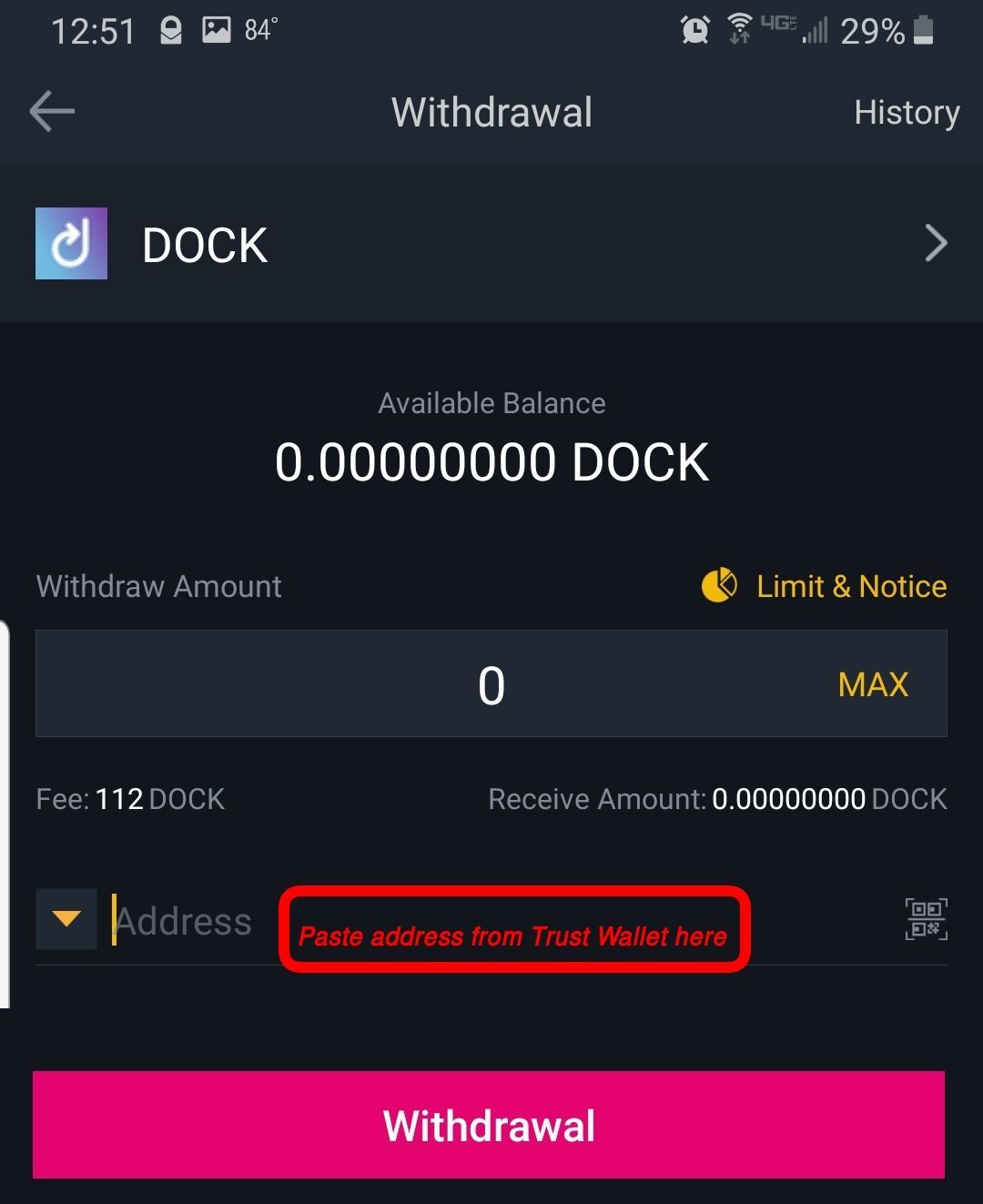 6.  Sip a beverage of your choice, you've earned it!
How to get more Dock tokens
If you don't already own some Dock or would like to own more, head over to Binance. You'll need to make an account if you don't already have one, but this process is easy and only requires an email address for most users.
Once you've done that you can purchase the Dock token there with Bitcoin or Ethereum. Afterwards make sure you move it to your Trust Wallet- you'll rest easy knowing your Dock is secure and easily accessible.
---
Learn More