It's been about two months since our last major update in April and we have some exciting news to share. We are currently on track to reach 1 million new users by the end June!
As promised, I wanted to personally send out this update to the entire Dock community. Some recent major developments include: strong partnership growth, deploying our first partner integration, staggering network metrics, and additional exchanges to access Dock tokens.
Dock is now listed on Coinbene
Dock is now listed on Coinbene where you'll be able to access an ETH/DOCK pairing. This continues to expand our mission of global reach and broadens the Dock network. Check out Coinbene's official announcement here.
Our Partner Network is Growing
Our partnerships team has done an incredible job with building our partner network. We now have over 130 active dialogs and 30 confirmed partners waiting on API access to integrate with the network. You can read about some of our partnerships here and make sure to follow along for many more to be announced soon.
The Dock Network, By the Numbers
Dock is on the cusp of reaching 1 million new users and is on track to surpass the huge milestone by the end of June. The rate of growth for the Dock platform has been accelerating as the platform greatly expands its network capabilities.
Session time in the Dock App increased by 42% with 206% increase in the number of page views. The amount of data in the Dock network continues to soar as users have now imported over 50 GB's of data. As we further integrate with our partners, we look forward to sharing more of all of this exciting data with our community.
Website Traffic
Dock has continued to quickly become one of the most trafficked blockchain websites on the internet. The screenshot below from Alexa.com updated June 10th, 2018 (a publicly available tool to monitor website traffic) shows how we have continued to accelerate our growth and now ranks 21,189 in the world.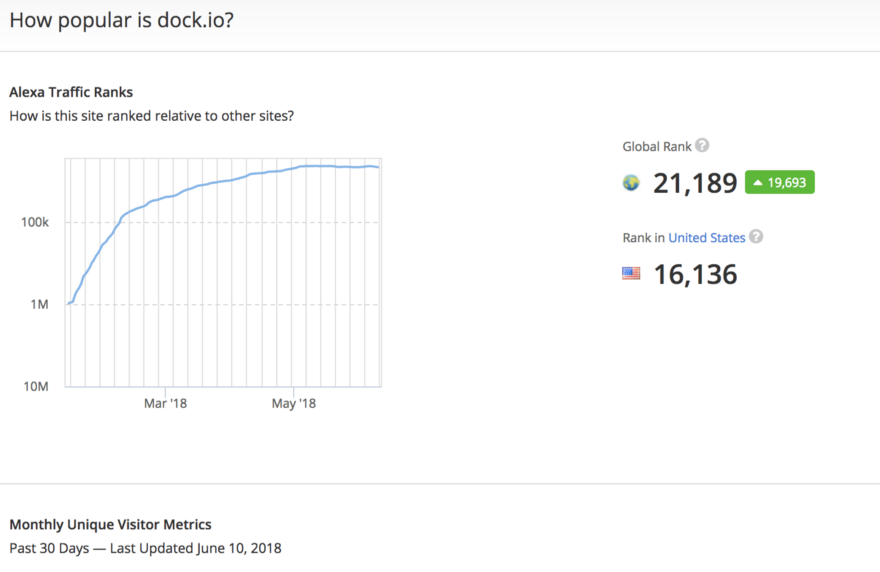 Join the Earn Beta: Earning Dock Tokens
Because we value feedback from the our community, we are constantly evaluating the platform and working on ways to improve the system. From time to time, this means taking steps toward ending the actions of bad actors, which lead to the the conclusion of our original earn program. However, we'll soon be launching new ways to earn tokens. Stay tuned!
Developer Updates:
Our developers have been making great progress as we have deployed our first partner integration with Remote.com and launched new features. Follow along with all of our dev updates here.
Follow Dock:
· Join our Telegram community to be the first to be updated
· Join our Discord community
· Join our Reddit community
· Follow us on Twitter
· Follow us on Medium
· Join the Newsletter
Learn More