The Dock team continues to push hard towards our long-term vision, and we'd like to take a moment with you to emphasize some highlights in our progress over the last month.
Brief Summary of Our Long-Term Vision
We know the problem we're working to solve isn't simple, but the way we explain it doesn't have to be complex. In order to ensure our vision is unambiguous, we have added a simplified explanation to our webpage outlining the long-term scope of our data exchange protocol. You can read all about it by going to https://dock.io/protocol.
Integrations — Data Exchange
Respect is a two-way street. We believe data exchange should be too. To help dismantle data silos, we're currently exploring multiple Proofs of Concept to empower our users to distribute, as well as retrieve, their personal data across the internet. Once the solution is released, Dock users will be able to seamlessly update their information across partner sites and connected apps with one click. Keep an eye out for more partner announcements in the coming weeks too! We're incredibly excited about our progress in this area, which is a foundational component to delivering on our long-term vision.
Additional Emails & Enhanced Safe Scan Features
Since it's initial release earlier in July, Safe Scan has been one of our most popular features to date. By popular demand, you can now scan for security issues across multiple emails. With this update, we're showing our commitment to helping people successfully enhance their data security and take control of their data.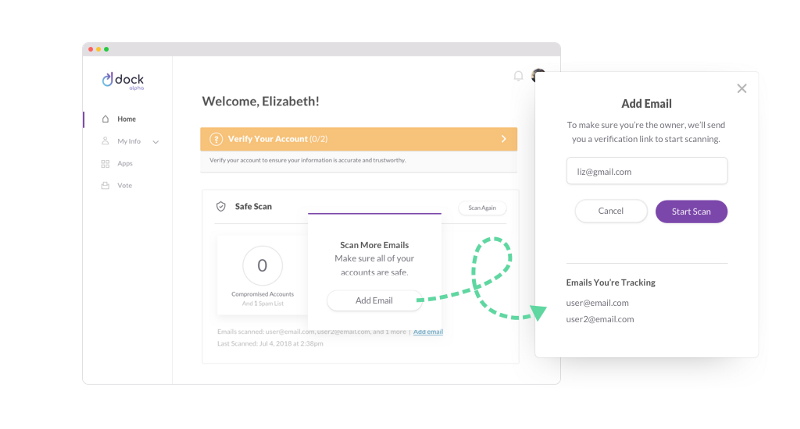 Simplified Onboarding
It's never been easier than today to start taking control of your data. We've streamlined our onboarding and reduced the necessary steps to taking back control of your data. Invite a friend to take control and try the new experience at dock.io
What's Next?
We know you've really appreciated our Safe Scan for emails, so we're expanding the capability to include Safe Scan for passwords. After the next sprint you will be able to use our system to check if a password has ever been compromised. This is just one more step towards our mission of helping users win the global war for your digital freedom. We're glad you're with us!
Thank you for supporting us and the Dock Protocol. We know this is a big vision, and we appreciate your involvement as we work to bring the power of the blockchain to the common user.
Learn More