Building Trust With Verifiable, Fraud-Proof Data
From the beginning, Dock's mission has been to enhance trust by empowering organizations and individuals with verifiable, fraud-proof data.
This past year, people and organizations around the world have experienced a variety of growing problems:
Our lives are more and more reliant on digital data. But data is increasingly easier to manipulate, change, and corrupt in many industries including supply chain, healthcare, and education, which leads to a loss of trust.
Individuals have less privacy and security as user data is often controlled, misused, and shared by organizations without their knowledge.
Certificate fraud is also a growing global problem and fake diplomas alone are a billion-dollar industry.
These global issues demonstrate the urgent and growing need for Verifiable Credential and decentralized identity technology solutions to bring back trust, transparency, privacy, and security of data across industries.
To address these issues, during this past year, we've developed more partnerships with organizations using our technology, grew our community, added more functionality to our products, and made significant upgrades to the network. Regardless of what challenges there are in the industry and markets, Dock is continuously strengthening our product solutions that can be applied to a variety of sectors and use cases over the long term.
Key 2022 Industry Trends
Before diving into Dock's achievements and development highlights, we'll go over some key industry trends and problems that our tech can solve. Dock's Verifiable Credential and Decentralized Identifier (DID) solutions are powered by blockchain technology and they can be applied to a variety of sectors and use cases.
Blockchain Trends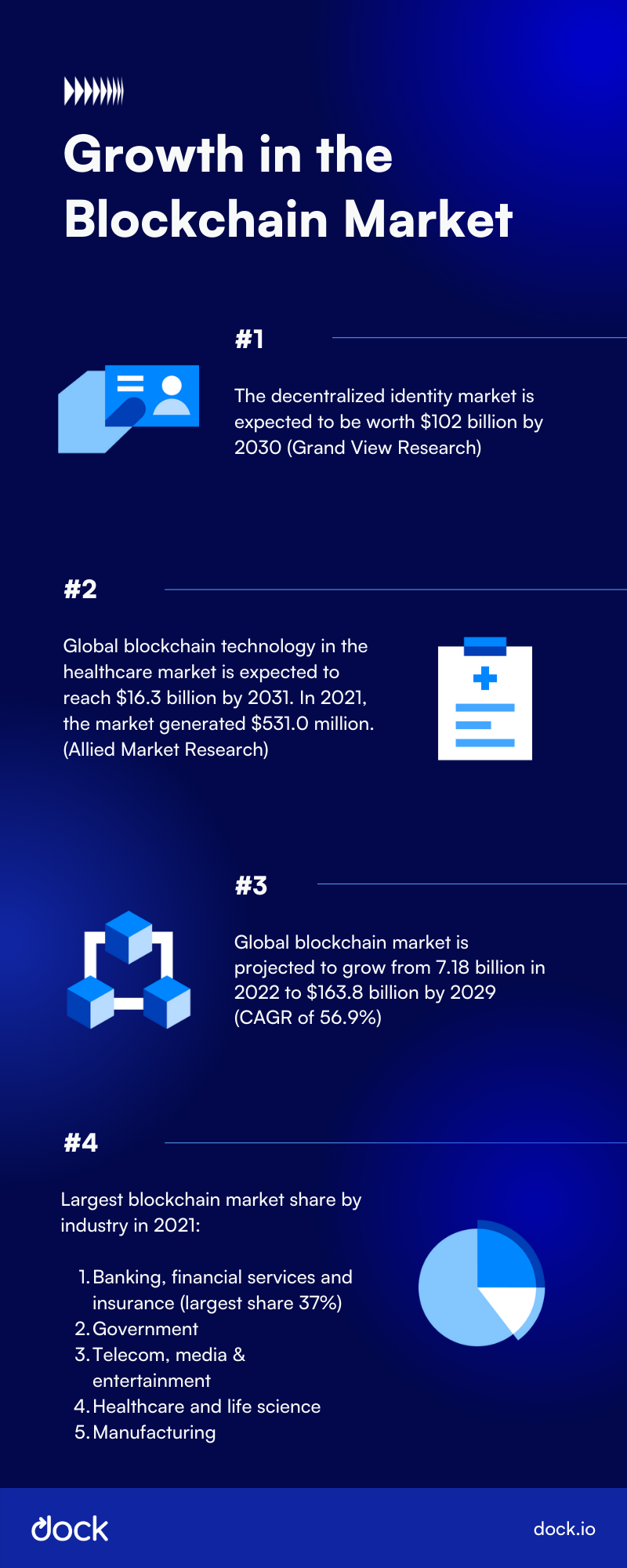 Dock's Solutions
The role of decentralized identifiers (DIDs) and Verifiable Credentials (VCs) is essential in providing more security, privacy, and trust among organizations and individuals in a variety of industries.
These Dock solutions that can be integrated in organizational systems and operations:
Web 3 ID (free): Easy-to-integrate blockchain-based sign-in system that enables organizations to verify and authenticate users in a way that preserves their privacy without storing any user data.
Dock Certs: Efficiently verify and issue Verifiable Credentials. Dock Certs can be used in two ways: one is our no-code, user-friendly platform and the second is the API for developers.
Dock Wallet: Store Verifiable Credentials and control DIDs.
New Partnerships
Dock is a B2B company and we're collaborating with organizations that are using Dock's solutions to turn their data into Verifiable Credentials to provide privacy, security, and a lifelong record of achievements for their stakeholders. Some of the key partnerships Dock has developed this year include:
BurstIQ Makes Health Data Verifiable, Secure, and Portable With Dock
BurstIQ is a company that provides data solutions powered by blockchain for the healthcare industry. They needed the ability to export data from their system and ensure its security, portability, and integrity so that it can't be manipulated. That's why they implemented Dock's technology in order to turn any health data into a Verifiable Credential. This enables their customers (organizations and individuals) to respect users' data privacy and data ownership rights.  
"We've looked at a lot of the systems that allow you to issue DIDs and VCs and generally what we've found is that Dock is far easier to use than many of the existing tools out there. It can deploy very quickly and it will be very easy for our developers to use the tool," said Amber Hartley, Chief Strategy Officer, BurstIQ.
SEVENmile Issues Fraud-Proof Verifiable Certificates to Students
SEVENmile's entrepreneurial training program in Australia connects high school students with business owners to teach them problem-solving techniques. Paper certificates have less real-world value because they are easy to fake and hard to verify for authenticity. SEVENmile is using Dock Certs to efficiently issue digital fraud-proof graduation certificates which allows students to prove their skills throughout their lives and create immediate trust with employers.
"At SEVENmile Ltd., we believe that the move to ownership of our personal data is a vital platform that will help transform how the internet functions and how our data will be protected. We're applying this philosophy by working with Dock Labs to secure the credentials of students we train," said Greg Twemlow, SEVENmile's CEO.
Web3 ID launched on the Auth0 Marketplace
Dock partnered with Auth0 to launch the Web3 ID integration on the Auth0 Marketplace, an exciting step forward for developers easily leverage Dock's decentralized identity technology to enable privacy and security for their users.
"It has been really exciting to work with Dock on a newly-built partner integration for Auth0 Marketplace. This best-in-class solution adds an integral layer to our platform that provides our customers with greater choice and flexibility," said Cassio Sampaio, SVP of product at Auth0, a product unit within Okta. "After speaking with many customers, we have identified the types of integrations that matter to them, and we are so thrilled to have Dock's Web3 ID as a vetted and valuable vendor in Auth0 Marketplace."
Gravity Eliminates Health & Safety Certificate Fraud With Dock
Gravity Training is a leading training provider of commercial work-at-height solutions in South Africa. Fake Health & Safety certificates are a growing problem for hiring companies in the country as many people photoshop certifications. That's why Gravity is using Dock's certification platform to issue fraud-proof, high-security digital certificates and prevent fraud.
Key Technology Milestones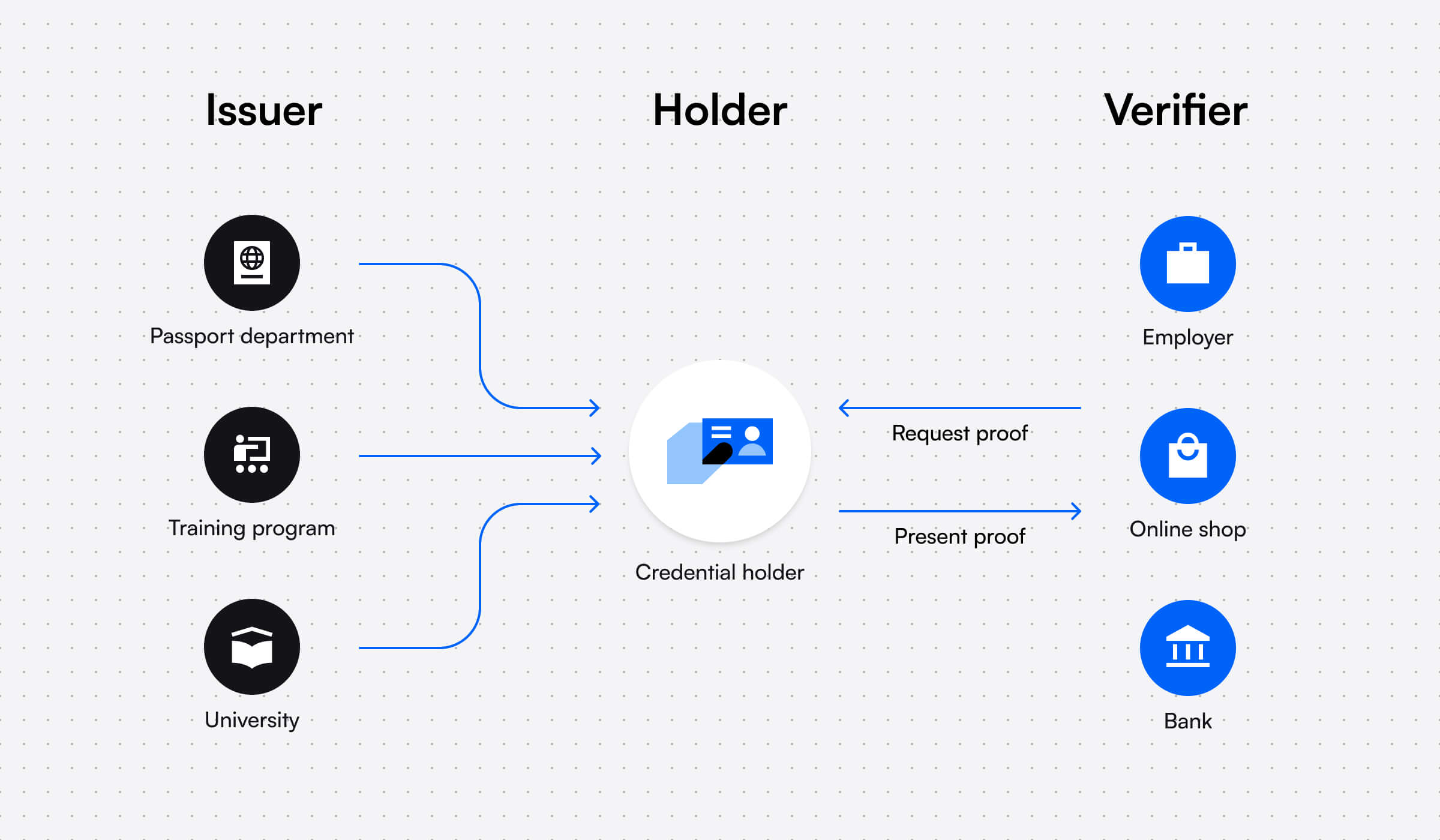 We are fortunate to have some of the most experienced and specialized developers in the decentralized digital identity space on our team. We've added more features to the Dock Wallet, Certs API, and the network to enable more functionality, security, and privacy for users.
In order to further strengthen privacy features with anonymous credentials, Dock uses BBS+ signatures. Unlike traditional cryptographic signatures where you must show all of your credential attributes, BBS+ signatures can be used to reveal and prove certain attributes in a credential.
Here are our key achievements for 2022:
Dock Certs was built as a result of repeated requests from organizations with little to no technical resources to have a user-friendly, no-code solution to issue Verifiable Credentials. Our bulk issuance feature allows users to efficiently issue multiple credentials to recipients (e.g. 300 graduates) at the same time by simply importing a spreadsheet. Later in the year, we also launched our Certificate Designer feature in Dock Certs to allow users to customize the design of their credentials.
2) Verifiable Credentials and DID Management from the Dock Wallet
Our wallet upgrades enable people to:
Create, export, edit, delete, import, copy, and share their DIDs
Securely store Verifiable Credentials and take them wherever they go
The importance of using a non-custodial wallet
As a non-custodial wallet, the Dock Wallet enables users to have full ownership and control over their keys (acts like a password to access all of their accounts and information). It's risky to have data on custodial platforms like centralized wallets.
Custodial basically means another party holds your private keys and that they have full control over your account. Because of this, they could make transactions on your behalf. As much as possible, it's best not to use custodial wallets to protect your digital assets.
3) Anonymous Credential Support for the Dock Wallet
The Dock Wallet provides the option for anonymous credentials where people can prove something about themselves without revealing the actual information. For example, with anonymous credentials, someone could prove that they are at least 18 years old without revealing their date of birth to enter a gambling site.  
Web3 ID is a blockchain-based sign-in system that allows organizations to request private data from users directly from their ID wallet apps in a way that preserves their privacy. By using Web3 ID, organizations prevent user tracking and don't have to store user data.
Web3 ID is also available on the Auth0 Marketplace, a platform that offers thousands of customers around the world integration for identity solutions.
"It has been really exciting to work with Dock on a newly-built partner integration for Auth0 Marketplace. This best-in-class solution adds an integral layer to our platform that provides our customers with greater choice and flexibility," said Cassio Sampaio, SVP of product at Auth0, a product unit within Okta.
Web3 ID was also voted the #1 Web3 Product of the Week on Product Hunt, an important site where tech startups announce new product launches. This has given Dock more visibility as the site gets almost 5 million monthly visits.
5) White-Labeled Wallet
Organizations that want to offer their customers an ID Wallet with their own brand can use our white label solution. This way, they can provide a wallet with the same functionalities of the Dock Wallet without spending time, money, and other resources building it themselves.
6) Ledger integration
People can securely store their Dock tokens on the Ledger Nano S hard wallet.
Growth and Adoption
A big focus for Dock this year was adoption. What's the point of all the long days and late-night refinements if no one is using what we build? We want to see as many organizations and individuals in control of their data as possible.
While decentralized identity is still in its infancy, we're certainly seeing that growth taking place with the number of partners we have, inquiries we receive, and people trialing our main product, Dock Certs.
Some numbers for context:
From February to June, we saw over 1,100 sign ups and almost 200 organizations trialing either our no-code solution or using our API
From July to November, we saw over 1,500 sign ups and almost 500 trials. So not only are we seeing more volume, we're seeing a 250% growth in trials during the past 5 months!
We're also seeing more of these trials convert into paying customers and we've published a few of these through our social channels with more to follow in the near future.
Our community of Dockers continues to grow. Here are the new followers and members we gained this year.

Dock is building for the long term, not for short-term price spikes
While the collapse of Luna, Celsius, and FTX have had negative impacts on the entire cryptocurrency market, remember that Dock is committed to building solutions that solve current and future problems to provide more security, privacy, and efficiencies for organizations and individuals. Rather than engaging in activities for the sake of short-term price increases, we are much more focused on consistently engaging with users and getting market feedback to create long term value that will consequently increase the value of the Dock token.
What's Coming Up in 2023?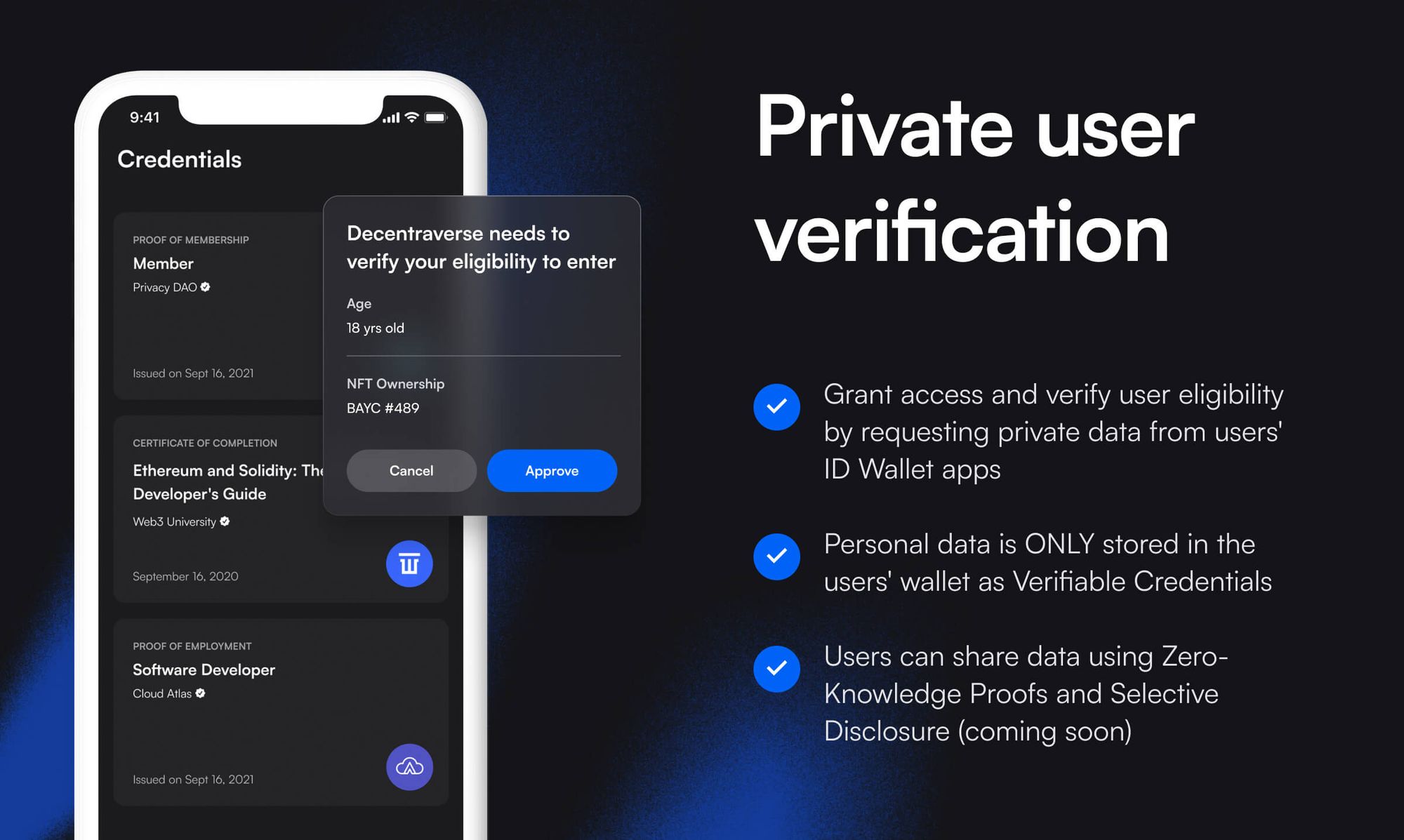 Looking forward to 2023, Dock is well-positioned to get through these turbulent times, continuously upgrading our technology, and growing adoption. Next year we will largely focus on developing more partnerships to increase adoption and complete the decentralized identity lifecycle by enabling users to verify and present credentials with the Dock Wallet.
Growth and adoption
Our main strategies to accomplish this goal include:
More  marketplace integrations (first up; Rapid API)
Hired a Sales Manager
Producing more valuable online content that educates people about the problems we solve and this has consistently resulted in many of them reaching out to us first
Outbound marketing and more outreach campaigns
Complete the basic workflow for the decentralized identity lifecycle
Right now with our products, users can manage DIDs and Verifiable Credentials. Very soon, people will be able to present their credentials to verifiers like companies, websites, or government departments that need to check their authenticity. In 2023, our technology will enable these functionalities for people and organizations.
Follow our progress in 2023
Check our roadmap and blog anytime to see our latest news and technology developments. Next year, we'll be attending more events like the Internet Identity Workshop in April 2023 to connect with more people in the space. We will keep you posted and hope to meet some of you if you're attending as well.  
Thank you to everyone who has followed and supported us this past year! We're looking forward to providing solutions for more organizations and people in 2023.
If you have any questions or feedback about our project, reach out to us anytime.
About Dock
Dock is a Verifiable Credentials company that provides Dock Certs, a user-friendly, no-code platform, and developer solutions that enable organizations to issue, manage and verify fraud-proof credentials efficiently, securely, and at a lower cost. Dock enables organizations and individuals to create and share verified data.