I'm excited to share progress on the dock.io network as well as other updates to provide insight on how well things are going.
First, I wanted to address some feedback about my participation in the community. As you'll see from this article, things have been progressing very quickly. Among many other priorities, my time is spent on strategy and recruiting world-class talent which means I haven't had as much time to be as engaged with the community since the token sale. We have an amazing community team and I'll be sure to spend more time with them as well as make an effort to personally provide updates from time to time moving forward.
Network Growth
User Growth
The dock.io network has been experiencing large-scale growth. In just 3 months the dock.io App grew to over 350,000 user registrations, and is on pace for over 500,000 registered users after 4 months. This is unprecedented user adoption in the blockchain space that few projects see.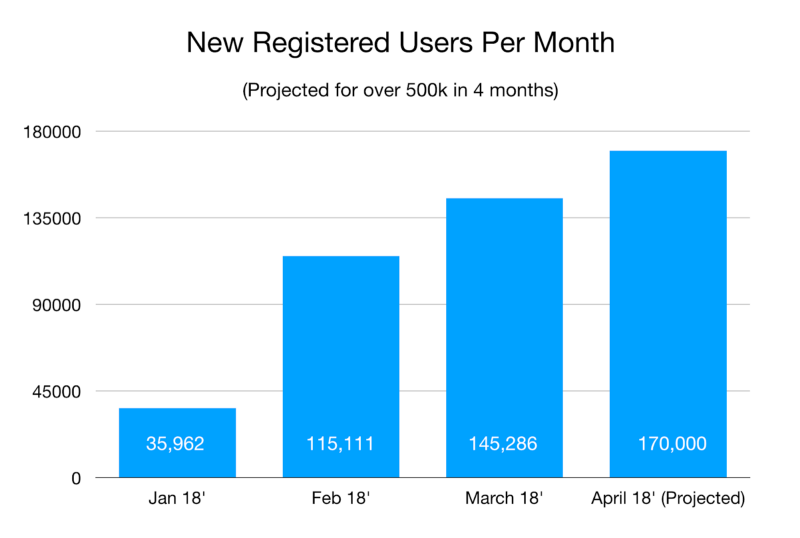 Website Traffic
The dock.io website has quickly become one of the most trafficked blockchain websites on the internet. The screenshot below from Alexa.com on April 16, 2018 (a publicly available tool to monitor website traffic) shows our site is nearing the top 11,000 most trafficked sites in the US and top 25,000 in the world. You can compare some of your favorite sites and projects to put these metrics into perspective.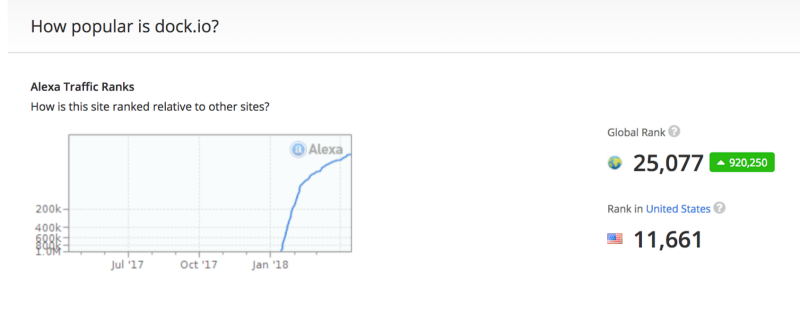 Partnerships
Jeffry, our Head of Partnerships, is gaining incredible traction in building out our network of partners. We have over a dozen confirmed partnerships and more than 100 others in progress. We also have two prominent publicly traded companies ready to start POC's (proof of concepts).
Development
The team is executing with amazing velocity. If you're not already, please follow along with our biweekly development updates. Here are the first and second and we have another big release scheduled this week!
Recruiting
One of the most important jobs for a founder is recruiting special talent who can elevate teams and projects, and much of my time post token sale has been spent on recruiting efforts. I can confirm from first-hand experience the best talent in the world continues to migrate to the blockchain ecosystem, and the migration is accelerating.
We just finalized a few world-class hires who I'm incredibly proud and excited to work with. They come from industry leading tech companies like Paypal, Cisco, NASA, Flipkart, and Shypt and will be leading technical and product efforts. More detailed announcements to come soon.
Token Release
This is a daily topic in Telegram as we have many token purchasers and many others who weren't able to purchase tokens very curious about when tokens will become transferable. To recap, we held a vote in which thousands of token holders used their DOCK tokens to help determine when to make tokens transferable. The results heavily favored releasing at a strategic time to be defined by our advisors.
Advisors monitor market conditions and other factors. The plan is in motion and you can expect tokens to become transferable by the end of next week. This is not a process that happens overnight, hence the timing next week. We will provide an announcement via email and all channels at the time tokens become transferable.
We are looking forward to getting past this small milestone and focusing on scaling the network to millions of users as we onboard the world to blockchain at large scale.
Join our Product Testing Committee
Want to get a sneak peek of features before they are public? Join our Product Testing Committee and share your feedback with our product team. You'll have a direct impact on the future of dock.io. Join the dock.io Product Testing Committee
Thank you
Thank you for your continued support. It's been exhilarating scaling our protocol to match the growth of the network over the past couple of months. This confirms not only the need, but also the demand for our project, which we look forward to building.
Follow us on dock.io:
Learn More