Further to the release of our Northill testnet and completion of our schema and interop milestones, Dock is moving to the next stage of our development - the decentralization of the infrastructure on which Dock runs.
Until now, the sentry and validator nodes that power the current test network are provided by Dock. However, the network is now almost ready to bring on board validators to contribute resources to the network and we are seeking expressions of interest from those wishing to participate in this first validator testnet and beyond.
The validator testnet(s) are called Danforth, a name taken from a temporary and lightweight anchor that attaches landing craft to the seabed. We've chosen to name our testnets after anchors as the name Dock stems from the concept of being able to anchor credentials in the Dock blockchain.
When launched, the Danforth testnet represents yet another significant milestone achievement toward Dock's vision to put the user and issuer fully in control of their credentials (academic achievement, licenses, accreditations, etc.) without the need for any centralized systems.
Roadmap
Validators will play an essential role in the Dock Network. They produce blocks and populate them with transactions that they process. They will also validate that others are processing transactions according to the rules of the network. Initially, validators will contribute to Dock's PoA testnet launching later this month and we are seeking around 10 validators during this process.
The best performing validators from the testnet will then be selected and graduate to the Dock mainnet which we anticipate will be released in September. Ultimately, Dock will transition to a Proof of Stake (PoS) network in Q2 2021, an estimated 6 months after the token migration from the current ERC20 to Dock's native token.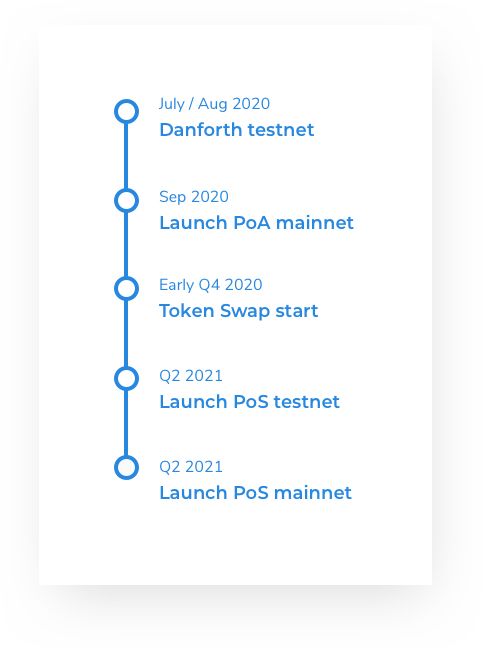 Incentives
At the testnet stage, block rewards will be testnet tokens only and are not usable on the mainnet. The real incentive to be part of the testnet and perform well is the promise of being a mainnet validator earning block rewards in real tokens where all validators will get an equal opportunity to validate on a round-robin basis. It is anticipated that each validator will receive about 15K tokens in an epoch which lasts 10 days.
Find out more
If you would like to become a validator please visit our validator docs where you can find out more about; token distribution, technical requirements, existing validator tooling and the on-boarding process amongst other things. Validators interested in participating should fill out this short online form and the team at Dock will respond within 1 to 2 weeks.
Learn More