September marked two big milestones as we introduced our App Marketplace and completed the Plasma Cash-based Proof of Concept (POC). We also added another industry veteran to the team and learned a lot from our users.
Dock App Marketplace
We introduced the Dock App Marketplace which will serve as a gateway between users and apps, allowing you to connect with Dock partner apps in a secure, user-controlled environment. It also provides a preview into the streamlined web 3.0 experience our technology enables.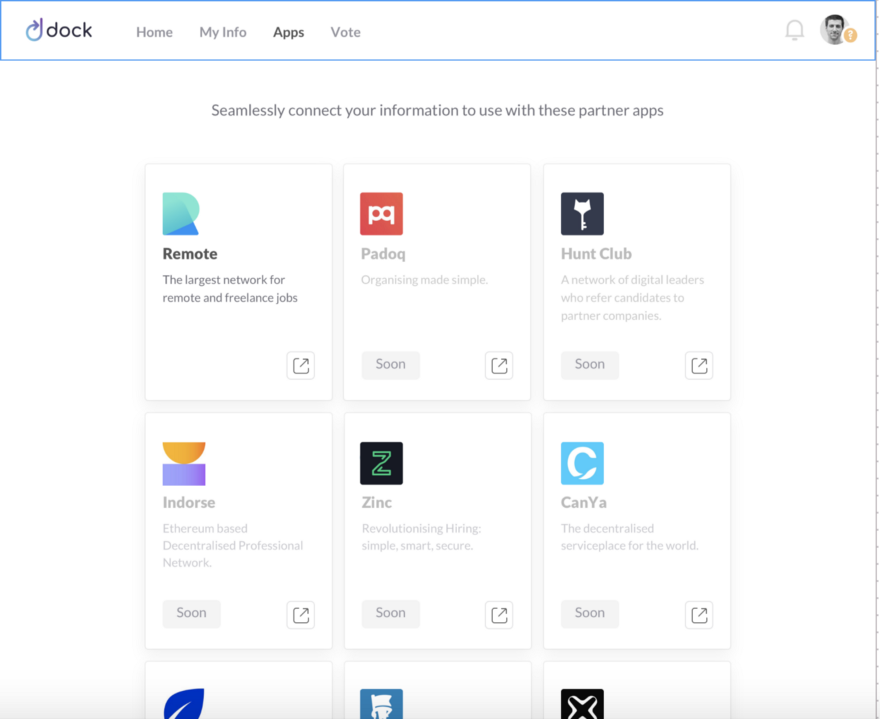 View apps and detail pages to learn more about offerings. From the App Marketplace, you can learn about each individual partner app and see the benefits of connecting via Dock:
Control Your Information. Connecting to an app via the App Marketplace lets you import your information with only a few clicks. You control exactly what data you're comfortable sharing, and our partner apps will let you know what information they need to provide the ideal experience. You can currently try this seamless experience with our showcase integration with Remote.com as explained later in the post.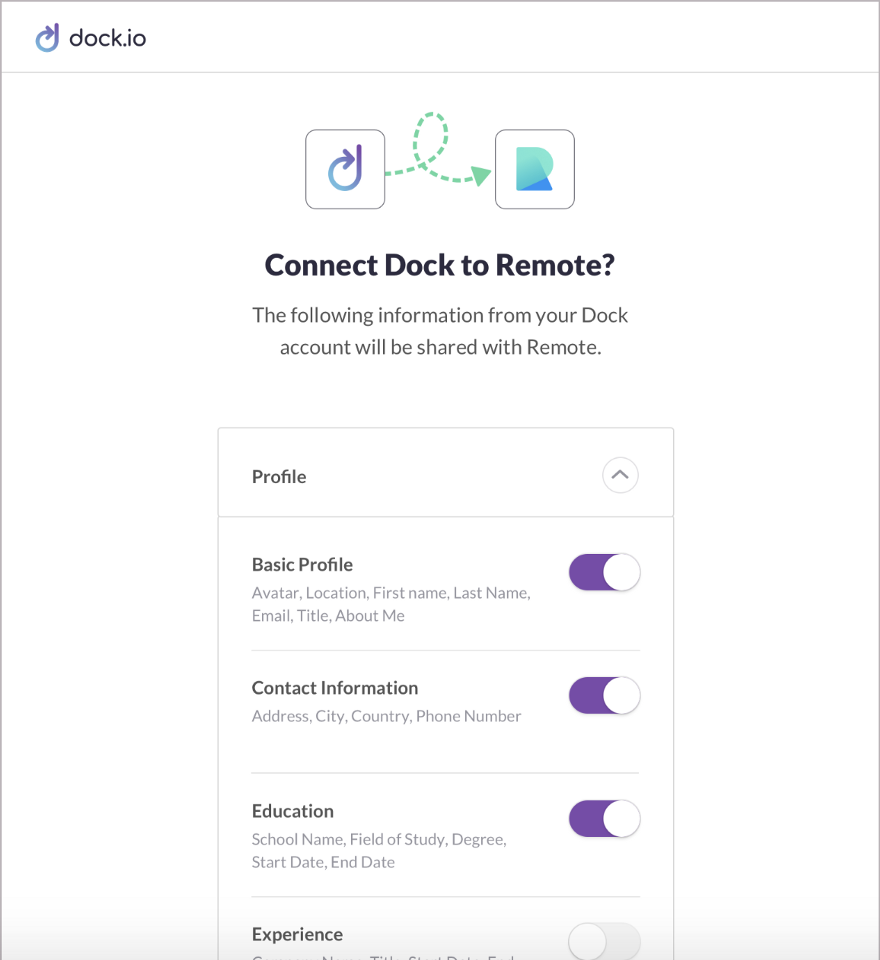 Connect in seconds. Connecting via the Dock App Marketplace lets you seamlessly import your preferred information into the app — which means you can bypass onboarding processes and dramatically shortening the time spent onboarding.
In Remote.com's case, you're able to search and apply to custom-tailored jobs in seconds instead of spending 30+ minutes setting up a new account, creating a profile and setting your job preferences. This seamless integration of personal data — controlled by you — is a glimpse into the future of Web 3.0 and what the Dock network is revolutionizing.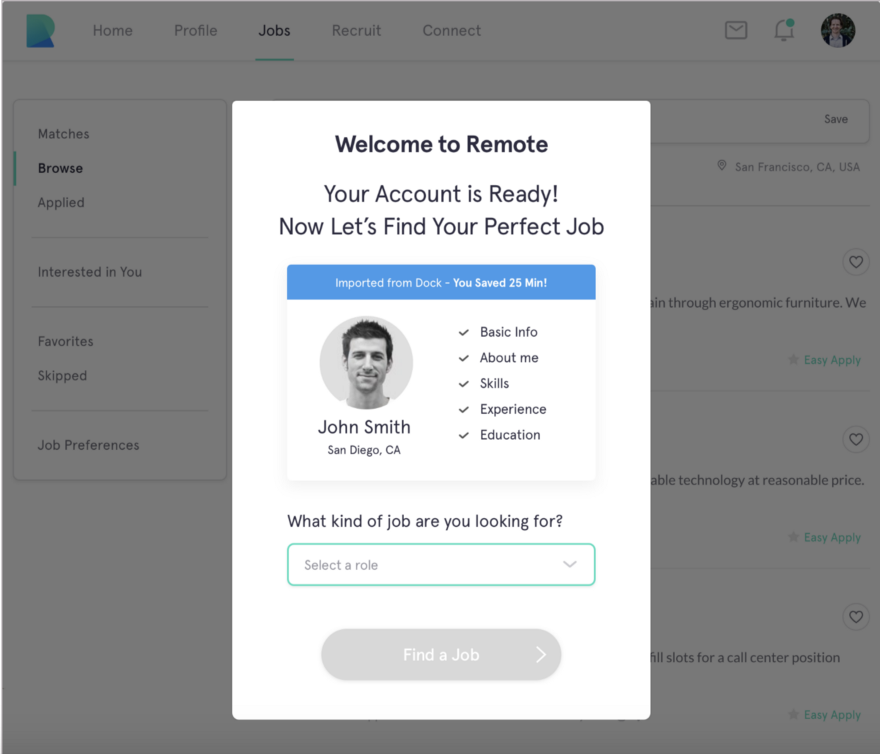 As partners finalize their integrations you'll see more apps active. For now, you can see a preview of some of the apps coming soon in the App Marketplace.
Have apps you'd like to connect with? Please tell us about them! Drop us a note at questions [at] dock [dot] io.
Blockchain POC Completion
[Warning — technical info ahead. If you start to glaze over, just move along to the next section.]
We're thrilled to announce we have completed our Plasma Cash POC and have successfully deployed the contracts on dev and ropsten. The current state of the PoC is comprised of the core functionality required to assess the Plasma Cash solution at both the contract and the node level and can successfully facilitate the exchange of DOCK tokens for Plasma (ERC721) tokens, manage token manipulations off the Ethereum mainnet, and allow participants to exit the Plasma node and exchange the ERC721 tokens back to DOCK token. We also added persistent state-storage (MYSQL for now) at the Node level allowing us to begin work on node recovery and other replay scenarios.
As we have contracts reviewed and audited we begin working towards the MVP and preparing a public demo before year's end. We plan to share a more detailed roadmap in the coming weeks as well.
User Interviews & Research
While a big part of Dock is focused on infrastructure and scaling, we understand that one of the most important aspects to successful blockchain adoption and usage is user experience and people in general — you.
We constantly run quantitative tests in our App, but in September we spent additional time on qualitative research, interviewing nearly 2 dozen Dock users ranging from North America, South America, Europe, and Asia.
Nearly everyone expressed concerns relating to the Facebook Cambridge Analytica scandal and other large tech companies misusing their personal data. 11% of our interviewees are victims of online identity theft, 56% suspect their digital presence has been collected in the wrong hands, and 90% want more control of their digital footprint and personal information.
This research showcases the importance of Dock's mission to give users control of their own data. We're hard at work to deliver that experience as quickly as possible.
We also received some great recommendations. If you have product recommendations or feedback for us, please let us know at questions [at] dock [dot] io.
New Team Members
Kipp Chambers
VP, Marketing — 15+ years' experience leading growth at B2B and B2C companies. Spent 5 years at FullContact, a leading data solution and identity resolution provider. Brings a wealth of industry-specific knowledge and a wide range of marketing skills and leadership to the team to drive Dock's mission.
SF Blockchain Week
If you're planning on being in San Francisco next week don't hesitate to reach out! Multiple members from our team will be in attendance at various events throughout the week.
Follow Dock:
Learn More